Featured Posts
Nov 11, 2022
Welcoming Your Guests: 5 Tips for Creating the Ultimate Guest Rooms
With the holidays rapidly approaching, it's that time tothink about transforming your home into a welcome space for guests. From making sure the house is cleaned, kitchens and bathrooms are stocked, to even finishing up some home improvement projects you've been wanting to accomplish, one of the most important pieces is making your space feel like a home away from home for your guests this holiday season.
There are a variety of ways you can spruce up your space for guests. Check out the tips below to ensure you have an idea of what goes into creating the best guest rooms for ultimate comfort and sleep during the holiday season.
Make a Plan
It's always a good idea to have a plan in place before jumping into any type of home improvement project. You'll want to figure out how big of a project you want to make it, how you are paying for everything (especially with holiday expenses in mind), and the timeline to ensure you have everything prepped and ready for when your guests arrive.
The bigger the project, the more time you are going to want to give yourself and the more breathable budget you'll want. For larger scale projects, you could utilize a personal line of credit or personal loan to finance it all. For a more grand guest room remodel, you may also want to build out a checklist to ensure you are getting all the jobs done that are needed. It could also be a good idea to hire some extra help such as designers to make the timeline of the project shorter.
For smaller, more basic changes, you can give yourself a week or two to get everything all figured out. Again, figure out different payment methods or plans you hope to use and make a list of everything you need to shop for. Break your list down into smaller projects and check them off once they are complete to stay organized.



Find Your Style
With a guest bedroom, you have the opportunity to have some fun with the style and design. A great place to start would be developing a vision board of what you want the space to look like. If you're looking for more inspiration, scroll through pinterest or check out HGTV and the Magnolia Network to see how others are taking on home interior updates.
As you start to envision your guest room, there are a variety of different styles you can explore such as:
Mid Century Modern
Traditional
Contemporary

Scandinavian

Coastal

Farmhouse
To flow with the holiday season you can also create a festive themed room. A perk about guest rooms is that you can always have the chance to change the style whenever you feel it's necessary.
Once you have the style figured out, give the room some extra personality by adding a coat of paint, placing some pictures, and using some fun lighting.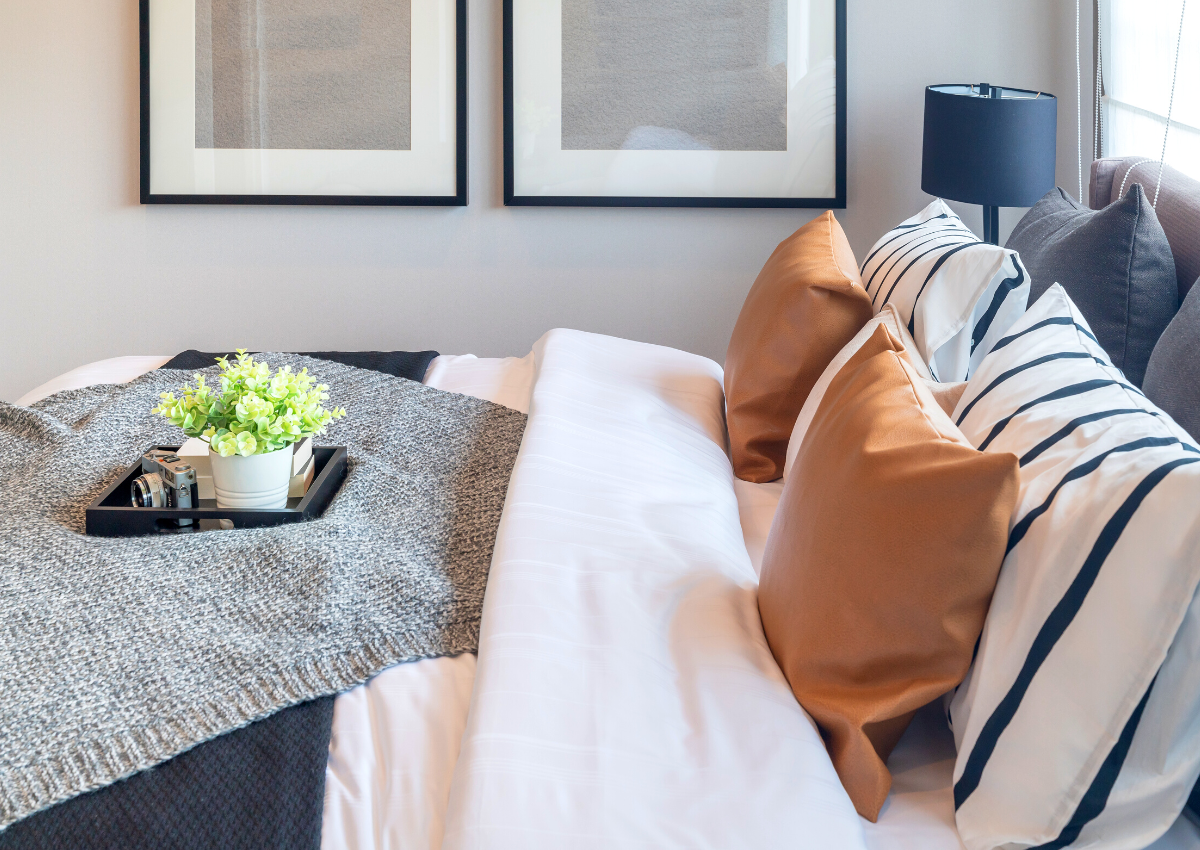 Make It Cozy
As you remodel your guest rooms, keep in mind that you'll want to capture comfort. There are several ways you can create a cozy room that is perfect for all guests. To start, you'll want to get a new mattress. The mattress you choose will directly impact your guests' sleep, so you want to make sure you pick one that has wonderful support. On the topic of the bed, you'll want to carefully pick out the best bedding and linens for the room. Picking out sheets that are a neutral color such as white, gray, or cream, will allow you to match other parts of the room easier.
Wall color is very important when putting together a guest room. When testing paint colors you should feel a soothing and calming energy from the color. If you already have different parts of the room picked out, you'll also want to factor those tones and hues in your decision making when it comes to picking out paint for a guest bedroom. For some inspiration, think about more neutral colors such as navy, gray, or shades of green with some depth.
To make the room even cozier, it's a good idea to incorporate various textures that emulate comfort. You can do this by warming up the space with an area rug, some decorative pillows, furry throw blankets, and extra seating for guests to kick their feet up.


Remember the Basics
Don't forget to stick to the basics. Remember, you want your guests to feel comfortable and have the opportunity to get away from all the craziness the holidays bring; so make sure the guest room can be where they go to relax and unwind.
Having a space where your guests can sit back, relax and watch some tv, read, or listen to music is a great way to give them some space. Make sure that the bedroom has an area where they can put their suitcases and unpack some clothes. Whether that be in dressers or a closet, have a designated area so they don't feel like they are in a cramped space.
Lighting is also something you can be strategic about when revamping the guest room. Think about adding some bedside table lamps and an overhead fan with a light that has a dimmer. This will allow the guests to make the room however bright or dark they please.


Give Guests Privacy
Your guests will want some privacy so you can add some window treatments such as curtains or blinds. This will also allow you to add some extra touches to the room. Think about adding locks to the doors of a guest room to give it extra security and privacy.
If you have the extra space, devote a guest bathroom that is either attached to the suite or in the same hallway for your visitors to use. That way, they don't feel like they are invading your everyday space.
Once you make all of these home improvements, you can sleep well knowing that your visitors are cozy and comfortable in their guest space.