Featured Posts
Jan 13, 2023
The Ultimate Gaming Setup with Reverie R650 Gaming Bed
Calling all gamers, streamers, and enthusiasts alike…
What does your at-home gaming setup look like? Does it encourage and support you to perform at your absolute best? When you're gaming, you want to be able to focus every bit of your attention on the screen and the competition; not fidget around constantly because you're uncomfortable.
From the sleep experts at Reverie comes a brand-new innovation in gaming technology and experience: the R650 Gaming Bed.
Reverie's Gaming Bed is the perfect solution for gamers who want top performance and maximum comfort in their gaming setup. It's built for gamers, by experts who understand gamers. With our patented technologies, we created a comfort system that can adjust your head and feet and tilt forward and backward to keep you comfortable during those long, intense gaming sessions.
We used our R650 power base to create the ultimate gaming bed, for the ultimate gamer setup. Here are the specifics:
3D wave massage to keep you comfortable for hours in between gaming, improving circulation and minimizing stiffness.
Dual tilt full-body support: the lumbar, true zero-G positions deliver better back and neck support for gaming while helping the user get a good view of the screen.
Underbed lighting serves as a nightlight, allowing for easy movement in and out of the bed while gaming.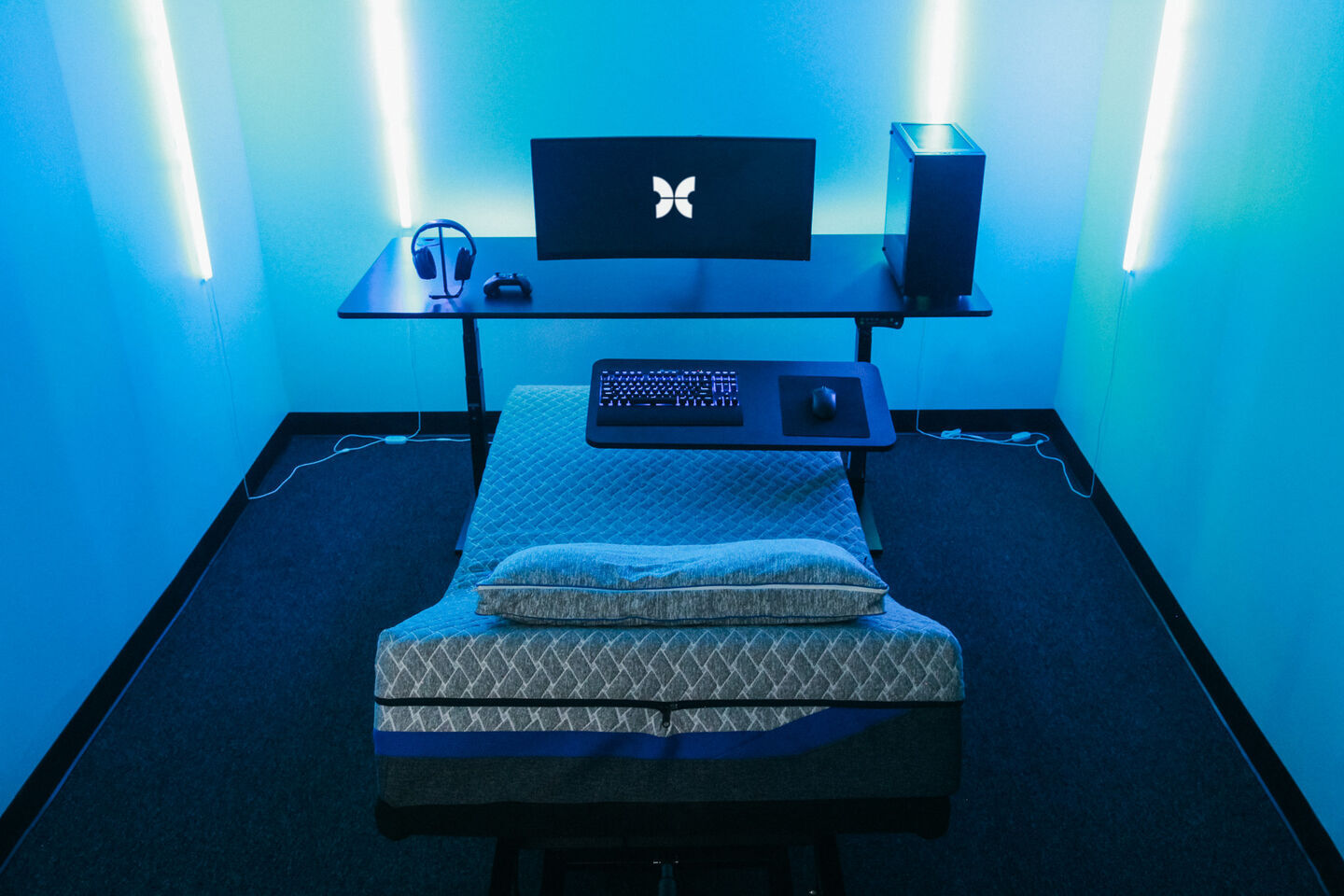 If you're waiting for a new game to load or updating your software, use the massage feature on your gaming bed to keep your blood flowing and muscles relaxed so you don't tense up over time. Or, if you've been gaming for a while and crave a quick power nap, just lay back and close your eyes–we're confident that there is no better sleep system to get you the comfortable rest you need.
The Reverie R650 Gaming Bed was also designed to be compatible with a variety of gaming accessories like desks, tables, cupholders, and more. Your setup has never felt better. Ready to experience it for yourself? Let's make your bed.